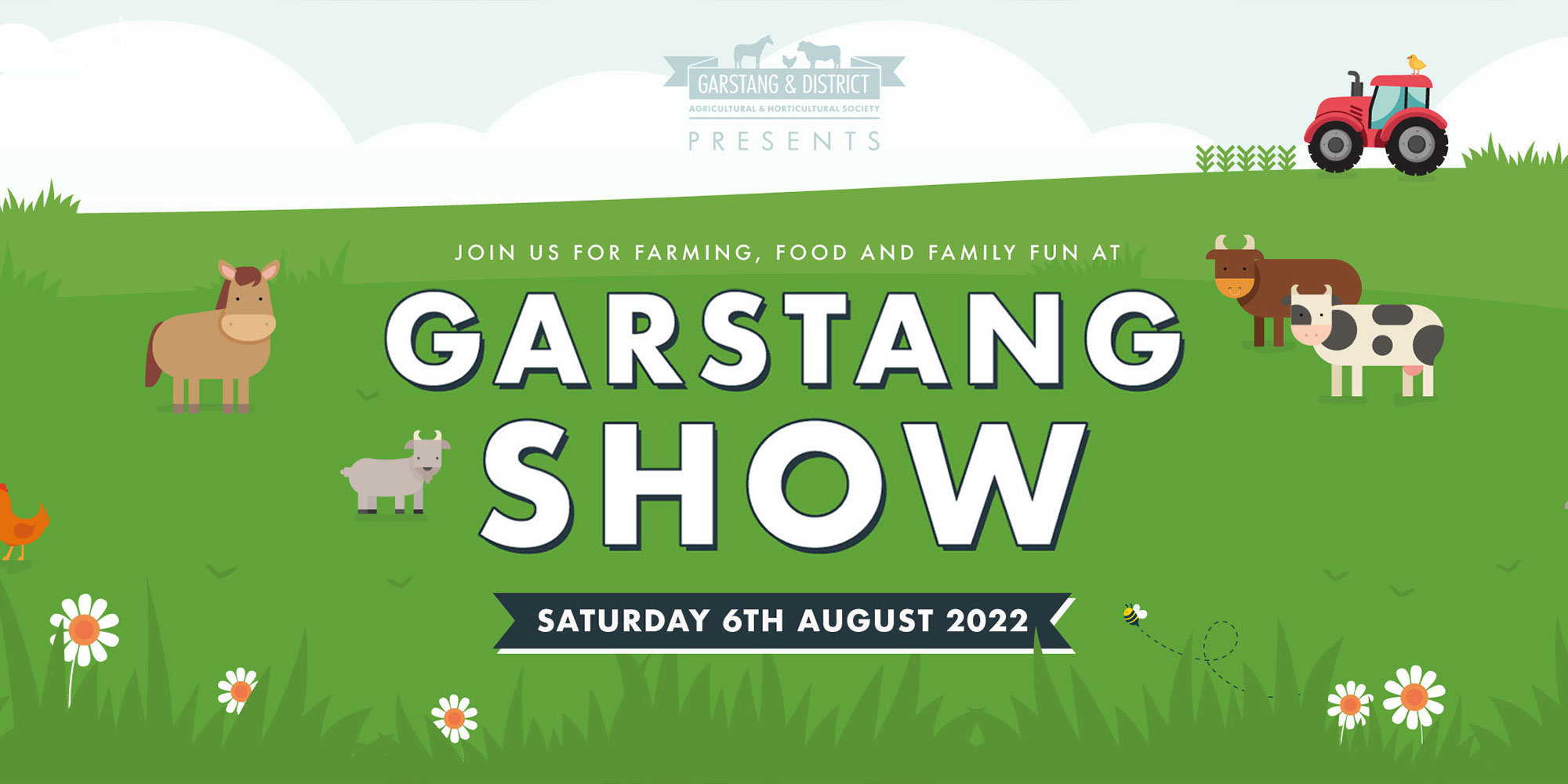 6th Aug 2022 / 12:00
Garstang Show at The Garstang Showfield
Wyre Ln,
Preston , Garstang PR3 1JS
Entry type: BALLOT
Event is outside
Check venue website for T&C's
Collection at box office (COBO)
Join us for this action-packed one-day event to learn about, enjoy and celebrate the role that farming, food and the countryside plays in all of our lives.
Open from 8.30am, the show promises to be a brilliant family day out!
- Classes for Cattle, Sheep, Heavy Horses, Light Horses, Pygmy Goats, Poultry and Rabbits.
- Horticulture Classes showcasing everything from carrots to cakes and collages to cacti.
- Learn about the crucial role farming plays in all of our lives.
- Show your support for our local businesses, farmers and traders.
- Food & drink from local independent traders.
- Craft stalls and trade stands showcasing our fabulous local businesses.
- Entertainment schedule to be announced soon.
1 Ticket = Family Ticket (valid for up to 2 adults & 2 children)
---
For more information please sign in
---
The following Terms & Conditions apply to any individual attending the Garstang Show on Saturday 7th August 2021, or days prior for setup. These Terms & Conditions apply to everyone in attendance at the Show, this includes those competing in classes or there on behalf of a business. Where any Terms & Conditions are in place for the reasons of Health & Safety related to the COVID-19 pandemic, these shall supersede any other agreements, terms or conditions in place.
The use of "We" or "GDAHS" in all instances refers to the Garstang & District Agricultural & Horticultural Society, the company and charity solely responsible for all aspects of the Garstang Show. The use of the term "Visitors" refers to all day visitors, ticket holders, members, competitors, judges, stewards, staff, volunteers, trade stand holders and exhibitors.
1. Visitors who have been in contact with a person infected with Covid-19 in the last 14 days or show symptoms of COVID-19, or have been identified by track and trace, must not attend the Show, and must follow latest UK Government regulations regarding self-isolation. In this instance, requests for refunds will be assessed on a case-by-case basis and at the discretion of the GDAHS and its directors. Any request must be submitted in writing to [email protected] before 5:59pm on Saturday August 7th
2. It is everyone's responsibility to assess the risk presented to themselves in attending the Show. GDAHS cannot be held responsible for your own feeling of safety or the behaviour of others.
3. While at the Show you must observe all current UK Government regulations regarding social distancing, mask wearing and mixing with others.
4. You must observe and adhere to any safety signage and guidance in place. We also ask that you respect other visitors by keeping your distance.
5. It may be necessary to implement one-way systems in certain areas. These will be clearly sign posted and all visitors must respect and follow these.
6. It is not mandatory to wear a face mask outdoors during your visit; however, we will be following UK Government advice at the time of the show regarding the requirement to wear a face mask in indoor areas.
7. We request that all visitors sanitise their hands before entering the Show field and at regular intervals throughout the day. We will provide hand sanitising stations but suggest you bring your own hand sanitiser with you as we cannot guarantee supply.
8. Please respect in all instances, instructions from Show staff and volunteers and obey all written and verbal warnings. Visitors who do not comply with these rules may be ejected from the Show Field without refund. We will not tolerate any verbal or physical abuse to our staff, volunteers, or other visitors.
9. Visitor numbers will be limited, and we therefore cannot guarantee entry to anyone who has not purchased a ticket online in advance.
10. You must present your ticket on arrival at the show – either on paper or on your phone. We will be unable to look up bookings at the gate.
11. Tickets are priced based on the age of the Visitor. Our Staff and Volunteers will use their discretion and reserve the right to ask for proof of age. Their decision is final in all matters relating to admission and ticketing.
12. All tickets are non-refundable. If we find a ticket has been sold at profit, we reserve the right to cancel that ticket and refuse entry to the ticket holder.
13. Should the show be cancelled, we will be in touch with all ticket holders as soon as is reasonably possible. Requests for refunds will be processed in accordance with any relevant legislation and may be at the discretion of GDAHS and its directors.
14. We are unable to refund any tickets or entry fees should you be unable to attend the event due to adverse weather conditions or any other unforeseeable events which are beyond our reasonable control.
15. Except refunding costs as set out above, GDAHS shall have no other liability or obligation whatsoever to you arising from either cancellation or your inability to attend the Show.
16. Some entertainments and facilities which have been in place in previous years may not be available this year.
17. We reserve the right to refuse entry to, eject or ban individuals or groups without refund for:
18. Attempting to gain access without a valid ticket
19. Using threatening, foul, or abusive behaviour and giving reason to believe the ambience, safety or general enjoyment of the Show or visitors may be compromised in any way
20. Being in possession of offensive weapons or dangerous items
21. Not adhering to written or verbal health and safety instructions
22. Being under the influence of alcohol, illegal drugs or other substances
23. Any behaviour deemed by our Staff or Volunteers to be inappropriate
24. We reserve the right, if deemed necessary, to search any visitor or their belongings.
25. It is a condition of entry to our event (in any capacity) that you give permission by your attendance to being photographed and filmed. This is an important aspect of marketing the Show and ensuring its future viability. Your cooperation and understanding is appreciated by all.