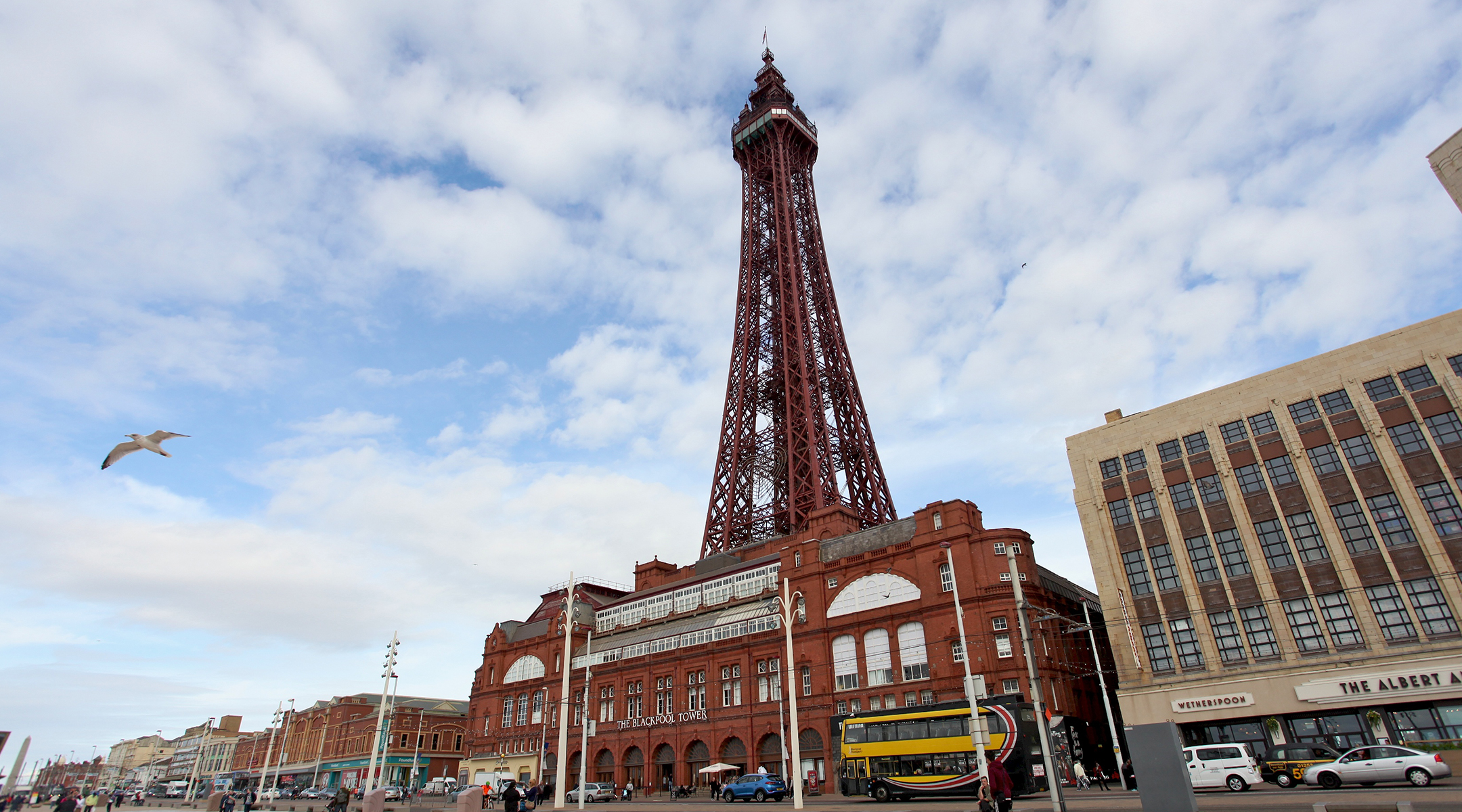 31st Dec 2020
The Blackpool Tower Eye at The Blackpool Tower Eye

Bank Hey St, Blackpool , Lancashire FY1 4BJ
Entry type: BALLOT
Check venue website for T&C's
Discount/Complimentary code
DETAILS AND HOW TO ENTER COMING SOON
These tickets are subject to availability, please check opening times and pre-visit details on the individual attraction websites. Full Terms & Conditions apply and can be found on the print at home ticket
---
For more information please sign in
---
BOOKING CONDITIONS
Guests are admitted to the attraction subject to the attraction regulations which are held at the admission desks a copy of which is available on request.
For attraction opening times, please see www.theblackpooltower.com. During this time the management of The Blackpool Tower will attempt to ensure that as many of the attractions as possible are open for use by guests. However The Blackpool Tower reserves the right to alter or change the programme of attractions if at any time it is deemed necessary to do so. Height and all other attraction restrictions still apply.
A binding contract between us comes into existence when the final page of the booking confirmation procedure is completed. For all payments made via this website, Merlin Attractions Operations Limited is the responsible contractual party except in relation to the SEA LIFE Blackpool for which Merlin Entertainments (SEA LIFE) Limited is the contractual party. This contract and all matters arising out of it are governed by English law. Tickets are not transferable and accordingly may not be sold or passed to any third party. All persons entering the attractions must have a valid entrance ticket which must be retained during your visit.
Prebooked tickets: The Blackpool Tower only operate a fasttrack collection system at busy times e.g. October Half Term, all other times you must remain in the normal queue.
A child is aged between 3 and 14 years inclusive. An adult is aged 15 years and over. Children under 3 years old enter The Blackpool Tower Eye and The Blackpool Tower Dungeon free of charge.
A child is aged between 1 and 14 years inclusive. An adult is aged 15 years and over. Children under 11 months old enter The Blackpool Tower Circus free of charge and will not be issued a seat.
All children who wish to play in Jungle Jim's the admission fee will be applicable.
Please note open dated tickets are not valid for special events.
The Blackpool Tower reserves the right to transfer tickets to another date at any time or offer an alternative attraction within the building in case of breakdown.
Please note height restrictions apply in Jungle Jims.
Those purchasing disabled tickets will be asked to produce proof of disability, for example Blue Badge holders or a letter from the DWP with photographic identification. For more information on our disability policy please visit the Disabled Policy Section on www.theblackpooltower.com
Please note that tickets purchased on-line are discounted. For on the day rates please visit www.theblackpoltower.com and check before your visit. All ticket prices displayed here are only available when making a booking on-line and must be booked 24 hours in advance.
Tickets are non refundable.
The Blackpool Tower Eye is subject to weather conditions and can close without prior notice due to health and safety, no refunds will be issued however the ticket is valid for one use within 90 days.
Resident Pass
Merlin Entertainments is launching an exclusive Residents Pass for Blackpool locals to take advantage of discounted entry to some of the resort's favourite family attractions.
The Residents Pass is available for everyone with a FY or PR postcode and it grants up to half off the admission price for The Blackpool Tower's five fantastic attractions, plus Madame Tussauds Blackpool.
The pass lasts for 12 months and is completely free; locals simply need to visit The Blackpool Tower or Madame Tussauds Blackpool with a passport photo and proof of address.
Full T&C's for the Merlin Blackpool residents pass
How do I redeem this offer?
The Merlin Residents Pass is exclusively available to FY and PR postcode residents only (proof of residence and a photo will be required on application). Proof of residents may include the following:
Current utility bill including landline telephone, electric, water, gas, cable, etc.
Current bank statement, current rental/Mortgage contract or receipt including deed of sale for property.
Current employer verification of residence address or letter from employer as long as it is on company letterhead with original signature.
Current paycheck/check stub, work ID or badge, if address is included.
Current car, life or health insurance policy.
Current voter registration
A recent passport sized photo is required for each person who wishes to get a pass. The pass cannot be made without the photo.
What is this offer?
Each pass will entitle the holder (and up to 3 more people) to 50% discount at The Blackpool Tower Eye, The Blackpool Tower Circus (excluding Toddler ticket), The Blackpool Tower Dungeon and Madame Tussauds Blackpool
*Offer not valid during October Half Term