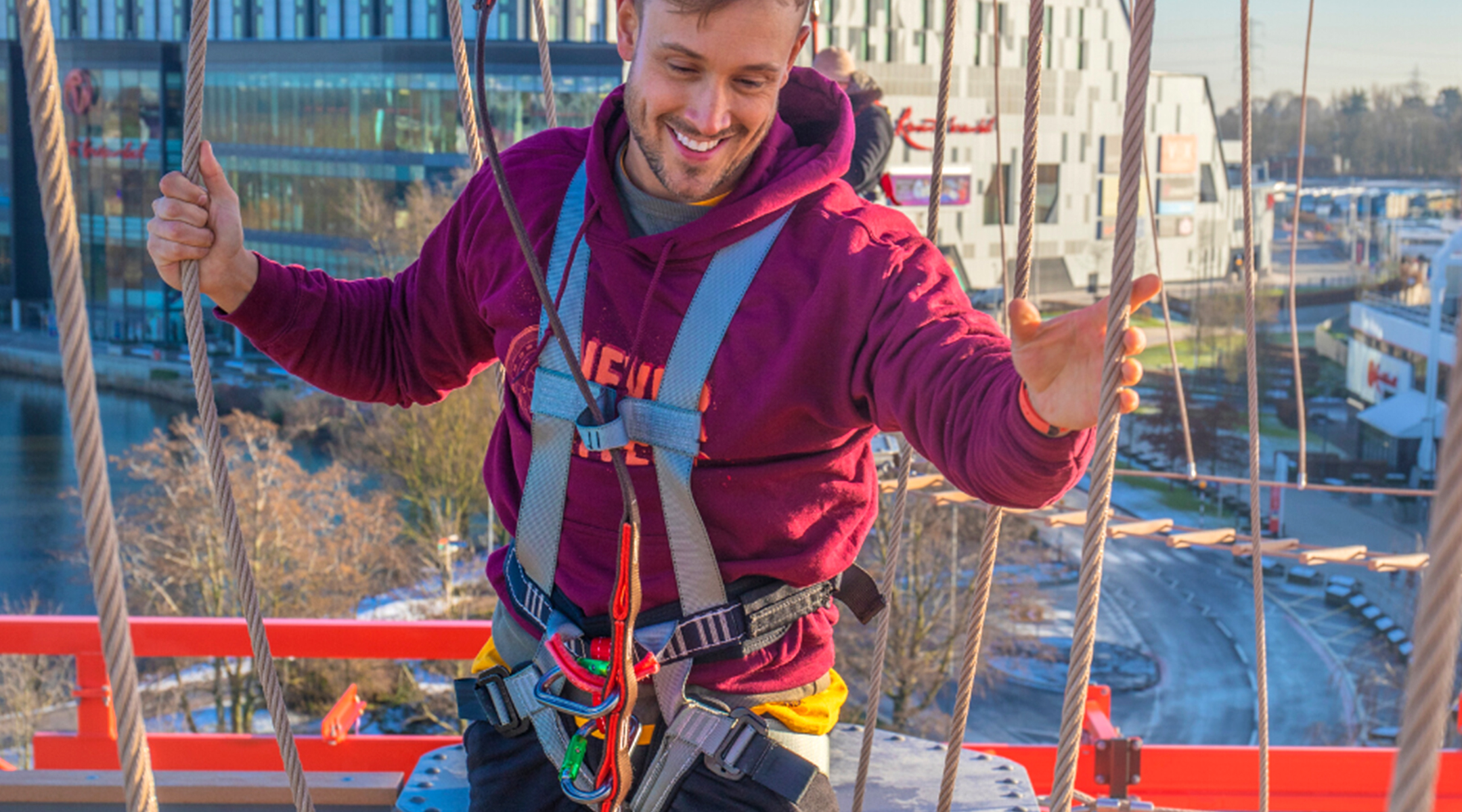 31st Dec 2020
The Bear Grylls Adventure at The Bear Grylls Adventure

NEC, National Exhibition Centre, Birmingham International Railway Station, Exhibition Way, Marston Green Birmingham , Birmingham B40 1PA
Entry type: BALLOT
Check venue website for T&C's
Discount/Complimentary code
At 65ft tall, The Bear Grylls Adventure is home to the tallest high ropes course in Europe, and rewards those brave enough to reach the top stunning views of the surrounding area. With its free roam structure, you can create your own adventure on the course, and select which obstacles you take on, from the simple rope bridges to the challenging rolling log on the course's top level. The perfect opportunity to step outside your comfort zone, the High Ropes features 36 different obstacles to challenge adventurers of all ages and abilities. Try something new at The Bear Grylls Adventure Birmingham.
These vouchers are available for the High Ropes activity only.
These tickets are subject to availability, please check opening times and pre-visit details on the individual attraction websites. Full Terms & Conditions apply and can be found on the print at home ticket
---
For more information please sign in
---
Merlin places great importance on the safety of its guests and endeavours to ensure that its high standards are met by all persons visiting the attraction. Please assist us in ensuring our attraction and its facilities remain a safe place in which to enjoy fun and exciting experiences.
Covid-19
Safety measures
In response to the Covid-19 pandemic, we have introduced specific safety measures at each of our Attractions in an effort to safeguard the health, safety and wellbeing of persons visiting our Attractions.
A full list of safety measures being taken at our Attraction are listed below:
Social distancing will be applied across all areas of the attraction with modified group sizes and frequencies for each activity
Staff and Guest health screening will be taking place on site on arrival with a contactless temperature checker
Enhanced hand sanitisation stations requirements will be positioned across the attraction in key locations
Enhanced cleaning regimes in all common areas and for all shared equipment
Use of hygiene screens at all desks and till areas
Use of face coverings encouraged for guests while on site and required for specific activities
The Bear Grylls Adventure guest facing staff will be equipped with PPE during guest interactions
We are encouraging our customers to use contactless payment whilst in the attraction
Visitor requirements
The safety measures put in place in response to the Covid-19 pandemic are there to safeguard the safety and wellbeing of all guests visiting our Attraction. It is in the interest of everyone at our Attraction to comply with the safety measures that have been put in place. Therefore, should an individual not comply with these safety measures, we reserve the right to require that individual to leave the Attraction in accordance with these terms and conditions.
Acceptance of risk
The safety measures that are being and have been introduced are intended to minimise the risk of contracting the Covid-19 virus but this risk cannot be completely eradicated. Therefore, anyone visiting our Attractions acknowledge that they do so at their own risk
In these terms and conditions of entry ("Entry Conditions"), the following definitions shall apply:
Attraction: The Bear Grylls Adventure or any part of it.
Merlin/Us/We/Our: [Merlin Attractions Operations Limited (Company No. 6272935), registered in England and Wales, whose registered office address is at Link House, 25 West Street, Poole, Dorset BH15 1LD.]
Ticket: a valid ticket allowing the holder entry to the attraction.
Guests are admitted to this attraction subject to the following entry conditions which contains important information about the attraction and participating in the activities. Guests should ensure they have read these entry conditions and, by purchasing or using a ticket, guests agree to comply with these entry conditions.
Any person who does not comply with these Entry Conditions may be removed from the Attraction by Merlin personnel, security or police officers, without any right to a refund. This is without prejudice to any claim that we may have against such a person or arising out of their actions. Whilst inside the Attraction, all guests must comply with any reasonable instructions given to them by Merlin personnel or any third party instructed on behalf of Merlin. We may amend these Entry Conditions from time to time. Every time you purchase a ticket or enter the attraction, please check these entry conditions to ensure you are aware of the terms that apply at the time.
If you have any queries relating to these entry conditions, please contact Merlin on:
Telephone: 0121 725 2616 or email [email protected]
Your participation in the activities
Due to the activities at the Attraction, every guest is required to complete a Participation Form/ Risk Acknowledgment prior to their visit or on entry to the Attraction. Guests who do not sign a Participation Form/ Risk Acknowledgement, or do not comply with any of the terms set out in the Participation Form/Risk Acknowledgement or these Entry Conditions, may be refused entry to the Attraction or prohibited from taking part in activities at the Attraction.
Guests acknowledge and accept that some of the activities at the Attraction involve risk of harm or serious injury. Guests agree that they are responsible for their own safety (and any children under their supervisions) at all times. Guests agree to follow any written or oral instructions or briefings given by Merlin, and all other notices, safety rules or signage and/or safety videos or demonstrations provided by Merlin. Guests should inform Merlin staff immediately if they do not understand any instructions.
Unfortunately, due to the nature of this experience pregnant guests are unable to take part in any activity.
Any safety clothing or helmet must be worn at all times and equipment must be used in accordance with The Bear Grylls Adventure's instructions.
It is the responsibility of each guest to monitor their condition during physical activities and guests agree to inform The Bear Grylls Adventure staff or instructors immediately if there is any discomfort or if guests wish to stop an activity. Guests must immediately report any accidents or injuries suffered by them or by another participant to a member of The Bear Grylls Adventure staff.
By entering the Attraction, guests accept they have a duty to take reasonable steps to ensure their own safety, taking into account any personal medical conditions. We recommend that guests with any medical conditions contact The Bear Grylls Adventure before purchasing a ticket to ensure that this does not affect participation in the activities at the Attraction.
Guests must notify The Bear Grylls Adventure (and the relevant instructors at each activity) of any medical condition which might make it more likely to be involved in an incident or cause injury to such guest or other participations. Guests who may be concerned about their ability to take part in the activities should consult a doctor before taking part.
General
For health and safety reasons (due to the topographical features of the Attraction), wheelchairs and mobility scooters are the only transport devices permitted within the Attraction. For the avoidance of doubt, bicycles, hover-boards, roller-blades or similar devices are not permitted within the Attraction.
Our commitment to provide a service
Merlin will endeavour to ensure that as many activities as possible are available for guests at the Attraction. However, The Bear Grylls Adventure reserves the right, without prior notice, to close and change the programme of activities and/or the Attraction's operating hours. The Bear Grylls Adventure in its absolute discretion reserves the right to close the whole or any part of the Attraction at any time or to restrict the number of persons having access to the Attraction or apply certain restrictions to an activity. The reason for any closure or restriction provided by this condition may include, without limitation, technical or operational reasons, capacity, inclement weather, special events or to ensure the safety and security of guests or if BGA reasonably considers the circumstances so require. For Tickets purchased in advance, if the whole Attraction is closed for any of the reasons set out above, Merlin may offer replacement Tickets for admission to the Attraction on an alternative date or issue a refund to the guest.
Our right to remove you
Merlin, acting reasonably at all times, reserves the right, in its absolute discretion, to refuse admission to the Attraction, ban from entry to the Attraction, or remove from the Attraction without any right to a refund, any person whose presence or behaviour may affect the enjoyment and/or safety of other guests or staff, or who:
acts in an inappropriate and/or undesirable manner whilst travelling to the Attraction whether by bus, coach or other means, where such behaviour has been reported to the BGA by a reliable independent source;
has been convicted of a criminal offence relating to the BGA, or civil unrest at Merlin property/attractions, or uses violent, aggressive, threatening, abusive, discriminatory or insulting words or behaviour or in any way behaves in a manner which may provoke a breach of the peace;
acts in a way contrary to health and safety instructions, climbs or stands upon fences, barriers, walls, safety fences, rock arrangements, exhibits or any other buildings at the Attraction; enters or attempts to enter any part of the Attraction which is a restricted or prohibited area as determined by Merlin, including workshops and changing rooms; or queue jumps at the activities without an authorised fast access;
has displayed any sign or visible representation of any kind which is, or could be reasonably judged to be, threatening, abusive or insulting;
has previously acted in any manner which has caused any Attraction or person to report that individual to Merlin;
is attempting to gain admission to the Attraction without a valid Ticket, or has been found inside the Attraction without a valid Ticket; or
has purchased or obtained any Tickets or discount vouchers from a Ticket tout or the BGA reasonably believes that they have purchased a Ticket from an unauthorised source.
If any guest in breach of any of these Entry Conditions is a member of a group, then such group of individuals may also, at Merlin's discretion, be denied entry or escorted from the Attraction without any right to a refund. Merlin reserves the right to initiate legal proceedings or prosecute any person found damaging or defacing any part of the grounds, fences, barriers, walls, exhibits, fabrics or buildings at the Attraction. At Merlin's discretion, future access to the Attraction may be denied to any guest who has previously been denied entry or escorted from the Attraction.
Tickets/admissions
The Attraction is private property. All persons entering the Attraction must pay for admission or hold a valid Ticket which has been obtained from Merlin, the Attraction, the Attraction's website or a third party authorised by Merlin to sell Tickets. The sale of Tickets/vouchers by anyone other than Merlin or someone who has been expressly authorised by Merlin to sell Tickets is strictly prohibited. Only persons authorised by Merlin are permitted to sell or offer for sale any items to guests within the Attraction grounds. All Tickets are non-transferable, not for resale and will become automatically void on any transfer for value.
Tickets purchased are only valid on the date and time printed on the Ticket. Please check the Attraction's operating calendar for opening dates and times. Tickets may not be valid for special events or concerts which may attract a separate admission fee. Tickets will only be exchanged or refunded if Merlin, in its absolute discretion, chooses to do so. For the avoidance of any doubt, pre-booked Tickets are non-refundable in the event that admission is refused or relinquished for any reason referred to in these Entry Conditions. Non-dated Tickets booked in advance do not guarantee admission to the Attraction, especially during busy times or on specific days when there are special events or where the Attraction has reached capacity.
Tickets booked online will be subject to any booking conditions and will be delivered in accordance with Merlin's delivery procedure. If Tickets are bought on behalf of other guests, the buyer accepts these Entry Conditions on behalf of every guest and shall ensure that these Entry Conditions are complied with by each person in the group. If re-entry into the Attraction is required, an appropriate hand-stamp or Ticket must be obtained before exiting the Attraction, which must be shown at the time of re-entry to regain access. Tickets must be retained at all times and submitted for inspection if required by Merlin.
No person under the age of 14 will be admitted to the Attraction unless they are accompanied by an adult aged 18 years or over and such person or persons whilst on site must remain under the control or supervision of an adult at all times. Merlin reserves the right, in its absolute discretion to change the age restrictions referred to in this condition, if any particular circumstances so require in the interests of safety and security.
The Attraction is unable to accept card payments online from card holders registered overseas.