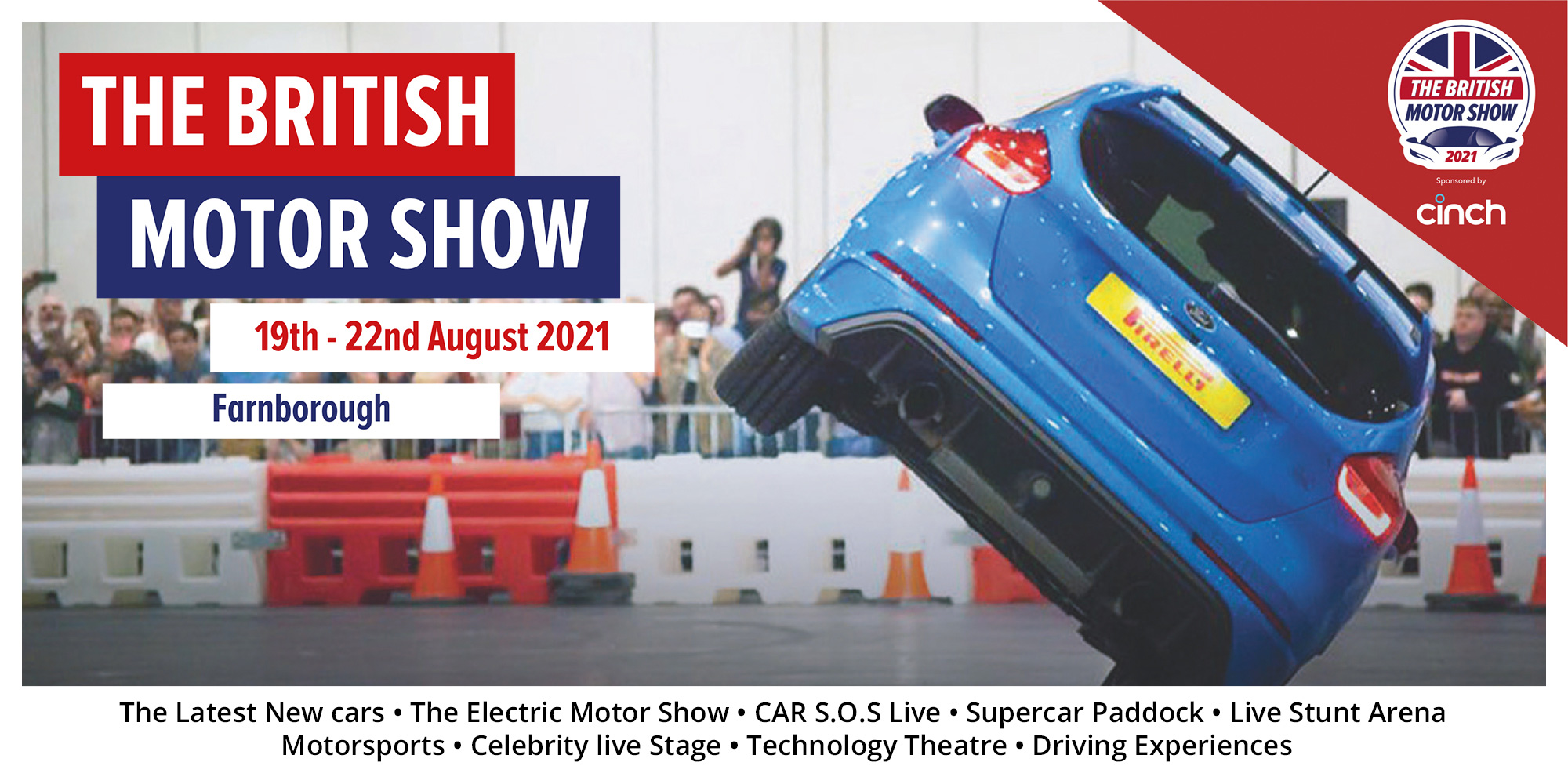 22nd Aug 2021 / 12:00
The British Motor Show at Farnborough International Exhibition and Conference Centre
Show Centre,
Etps Rd, Farnborough GU14 6FD
Check venue website for T&C's
Booking Link
The British Motor Show is set to make a momentous return in 2021, with an all-new venue and an all new dynamic format, including new cars, classic cars, electric cars and live entertainment.
As well as a display of the latest and greatest new cars, it will also have areas dedicated to classic cars, motorsport and feature the Select Electric Motor Show, a hall dedicated to electric cars.
Live content will be delivered in the Live Arena and on the celebrity-packed Partners& main stage, which will host interviews, quizzes and interactive sessions. The Electric Motor Show will also feature The IMI Tech Theatre, where experts will answer your questions about the latest automotive technology
There will also be acres of external displays and attractions including vehicle test drives, under 17 and stunt driving experiences, go-karting and supercar passenger rides
No other motor show has even delivered so a variety of content, celebrities and live action, here is just a selection of what's planned
Live Arena – Paul Swift will be putting on no less than 3 different stunt shows each day. When Paul isn't in the arena, we will have a variety of Classic car and supercar parades and more…
The Partners& Live Stage –hosted by Tim Shaw and Fuzz Townshend from CAR SOS will host celebrity interviews, quizzes, prize giveaways, panel sessions, product releases and more, sure to be packed throughout the weekend
Under 17 driving lessons – Visitors will be able to get their youngsters behind the wheel for a 20 minute driving experiences in a manual car fitted with dual controls and with a fully qualified driving instructor. Children will practice steering, reversing parking and even a bit of slalom!
The Caterham Experience, sponsored by Avon Tyres will offer consumers the chance to take a passenger ride in a Caterham, the Drift Taxi Experience will offer visitors the chance to experience the awesome handling and power of the latest Caterhams while being driven around a slalom course in one of our 3 out door arenas. Caterham will also be bringing along driving simulators, creating a showroom and offering test drives in their latest cars
The Paul Swift Stunt Driving Experience will let visitors experience all the tricks seen in the movies as an actual passenger. This adrenaline filled experience is from the team that will be delivering our amazing stunt shows in the Cazoo Live Arena. Paul and his team of professional stunt drivers will strap visitors in for passenger rides that they will never forget, while they perform stunts such as parallel parking, J turns and drifting, including an unforgettable lap of the slalom course. There are only a limited number of experiences available and are sure to sell out quickly as they are the perfect Christmas gift for the car lover. Tickets can be secured at the Pop-Up motor show or here
The Select Electric Motor Show - The Select Electric Motor Show will display a variety of the latest electric cars on sale with experts on hand to answer consumers' questions. SEMS will also incorporate The IMI technology Theatre where there will be a variety of sessions helping to educate and inform car buyers. This show within a show is targeted at technology fans and those thinking of switching to electric vehicles.
Supercar paddock. The Supercar paddock is where you will find a collection of more than 50 super rare and super expensive supercars every day.
Owners Clubs – Over 30 owners clubs from around the country will be displaying their best classic cars, including parades in the Live Arena.
The IMI Technology Theatre – The IMI Technology theatre will be delivering a variety of expert advice and helping visitors understand the latest automotive technology in easy to digest sessions.
Test Drives – A variety of the latest ICE and Electric cars will be available for visitors to test drive at the show, around our 2km test drive track
To gain access, guests must produce a valid Blue Light Card. Only one complimentry family ticket per card. Complimentry tickets will admit two adults and two children under 16