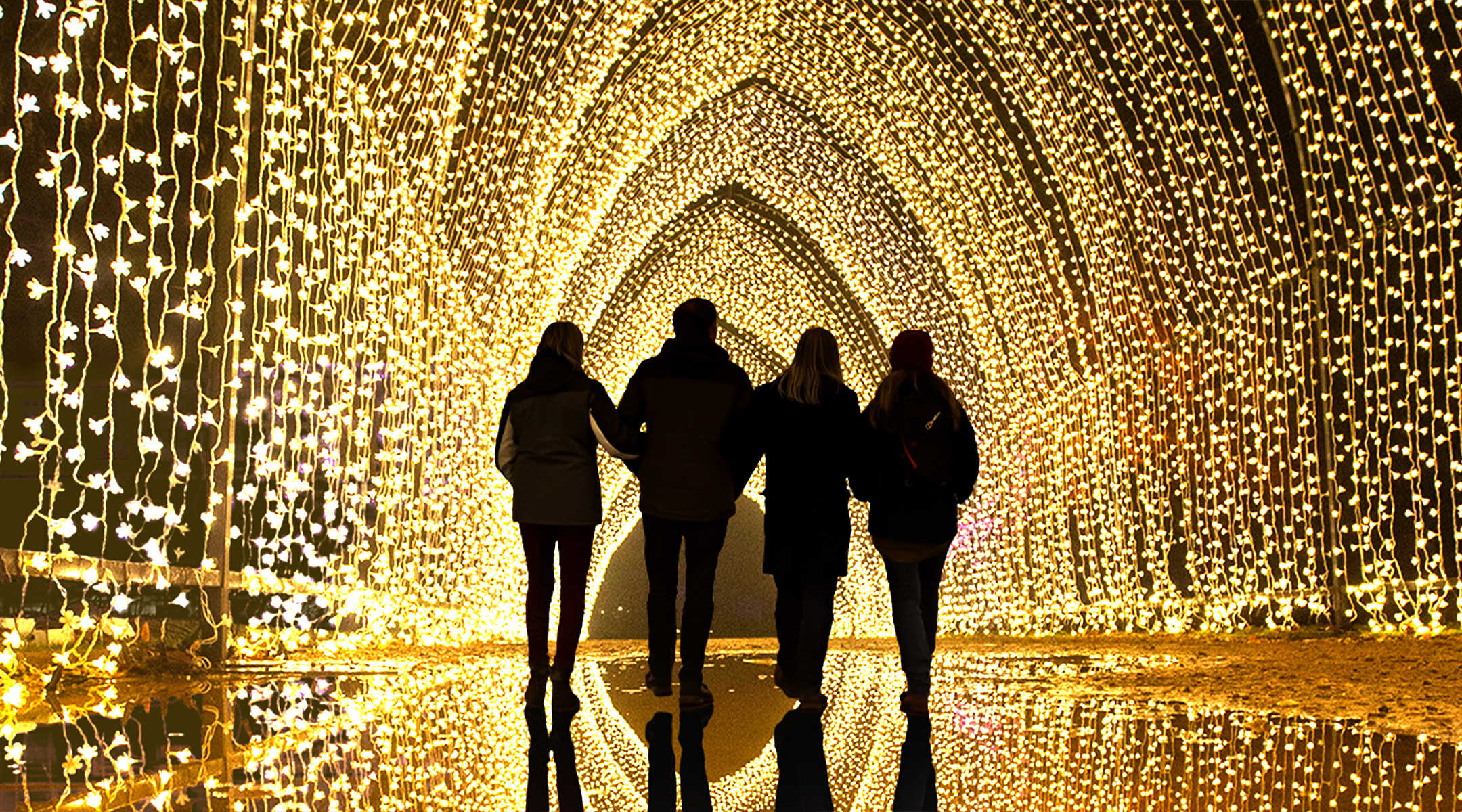 19th Nov 2020 / 17:45
Christmas at Blenheim Palace at Blenheim Palace
Oxford Road,
Woodstock, Oxfordshire OX20 1UL
Entry type: BALLOT
Check venue website for T&C's
Discount/Complimentary code
Surround yourself with sparkle this Christmas. You'll find new moments to share with friends and family with brand new bright lights for winter nights.
From the Heart of the Stars scattering shards of light across the lawn to a scented fire garden that adorns the Water Terrace, walk towards dynamic, colour-changing neon tunnels, lakeside reflections and onto a mesmerising place where, beneath the branches of a sprawling tree, softly glows the fairy-fire known as Will-o-the-Wisps.
Rest assured to those who have been before, the tunnel of light will twinkle and the fabulous hillside sea of light returns. Walk under larger-than-life arches of light into a world festooned with seasonal cheer enhanced by a soundtrack of festive classics as you wander beneath unique tree canopies drenched in Christmas colour.
Passionate about food, our talented street food vendors bring a delicious twist to the treats on offer. Have yourself a merry little Christmas and complete your walk under the stars with mulled wine and hot chocolate* with someone special.
*Separate charges apply.
1 ticket is entry for two people, including a parking space.
---
For more information please sign in
---
We would advise arriving 15 minutes before your chosen trail start time.
There will be lighting sequences created within the lighting design that will have some flashing lights contained within them. However, these will not be strobe lighting. We have worked along guidelines on photosensitive epilepsy and will adhere to the industry standard of synchronising effects and locking the sequences to ensure that lights do not operate at more than 5 flashes per second.
Christmas at Blenheim Palace takes place outdoors and you may need to queue on busy days. Please wear appropriate outdoor clothing and footwear for winter weather. We reserve the right to refuse inappropriately clothed patrons access to the trail if it is felt they are open to a greater risk of injury.
The trail is approximately one mile long. We recommend that it will take approximately 1.5 hours to explore and enjoy all aspects of the trail.
Only guide dogs and registered assistance dogs are allowed on the Illuminated Trail
Every effort is made to make the trail fully accessible, by its very nature it will on occasion cover some difficult terrain with a number of varying gradients. These areas can be particularly challenging during inclement weather, please be aware that the paths are uneven in places and not all areas of the trail are accessible in a mobility scooter. Where scooters are not able to access a part of the trail an alternative route is provided.
You are welcome to take photographs and to share these on social media with the hashtag #ChristmasAtBlenheimPalace
Come along knowing that the safety and wellbeing of our visitors and staff is of the utmost importance to us and we will continue to monitor and respond to the coronavirus (COVID-19) pandemic situation as it evolves. More information can be seen here: https://christmasatblenheim.seetickets.com/content/covid-19