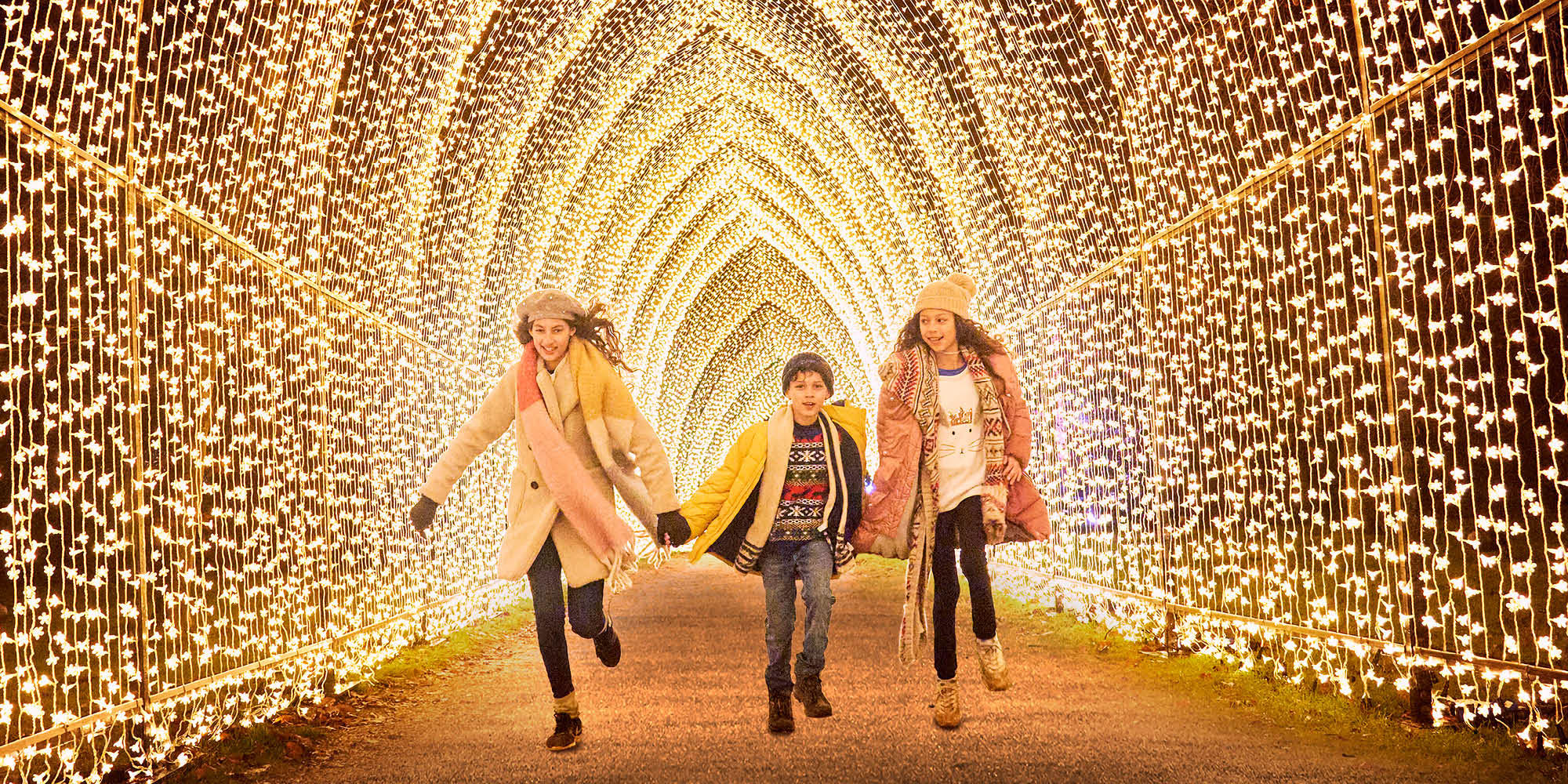 25th Nov 2021 / 16:30
Christmas at Belton at Belton House
High Road Belton,
Grantham , Lincolnshire NG32 2LW
Entry type: BALLOT
Standing Tickets Only
Check venue website for T&C's
Discount/Complimentary code
It's the most wonderful time of the year when over a million lights and seasonal sounds fill the air with festive fun at Belton House
Look forward to some together time and make everlasting memories, as you discover sparkling tunnels of light, dancing waterside reflections and trees drenched in jewel-like colour. For a moment of reflection pause at mesmerising flickering flames in the fire garden, gaze up at larger-than-life illuminations and don't forget to glimpse Father Christmas along the way.
Our crew of talented independent street food vendors bring a delicious twist to tasty treats on offer. Have yourself a holly, jolly Christmas and complete your walk under the stars with a *spiced winter warmer or *hot chocolate shared with someone special.
Your very merriest Christmas starts here. Limited capacity with timed entry. Plan now to secure the date and time of your choice.
*separate charges apply
1 Code = 2 people
---
For more information please sign in
---
Booking Link - https://christmasatbelton.seetickets.com/timeslot/christmas-at-belton-house?startdate=25-11-2021&enddate=28-11-2021&offercode=BLUELIGHT
1. Your ticket cannot be exchanged, transferred or resold for commercial gain.
2. Visitors will not be allowed admission onto the illuminated trail without a valid ticket.
3. Only guide dogs and registered assistance dogs are permitted. Other dogs are not permitted.
4. For the safety of visitors to the illuminated trail, the Organisers reserve the right to refuse admission and may, on occasion conduct security searches.
5. Please check all your tickets as mistakes cannot always be rectified.
6. The Organisers reserve the right to alter or vary the content or timing of the whole or any part of the illuminated trail due to circumstances beyond our reasonable control without being obliged to refund or exchange tickets.
7. The Organisers cannot accept financial or other responsibility for any loss or liabilityincurred by visitors to the illuminated trail as a result of contracts entered into by visitors with any organiser or advice sought or obtained from any organiser.
8. The Organisers cannot accept responsibility for any loss or damage to personal property brought to the illuminated trail.
9. Visitors may be filmed or recorded for broadcasts or security purposes on the illuminatedtrail.
10. The sale of any articles in the gangways or anywhere within the illuminated trail is strictly forbidden except with the written permission of the Organisers. The Organisers reserve the right at their absolute discretion to confiscate any such articles for infringements ofthe condition.
11. If anything is unclear, please check out our FAQ page or complete the contact form: