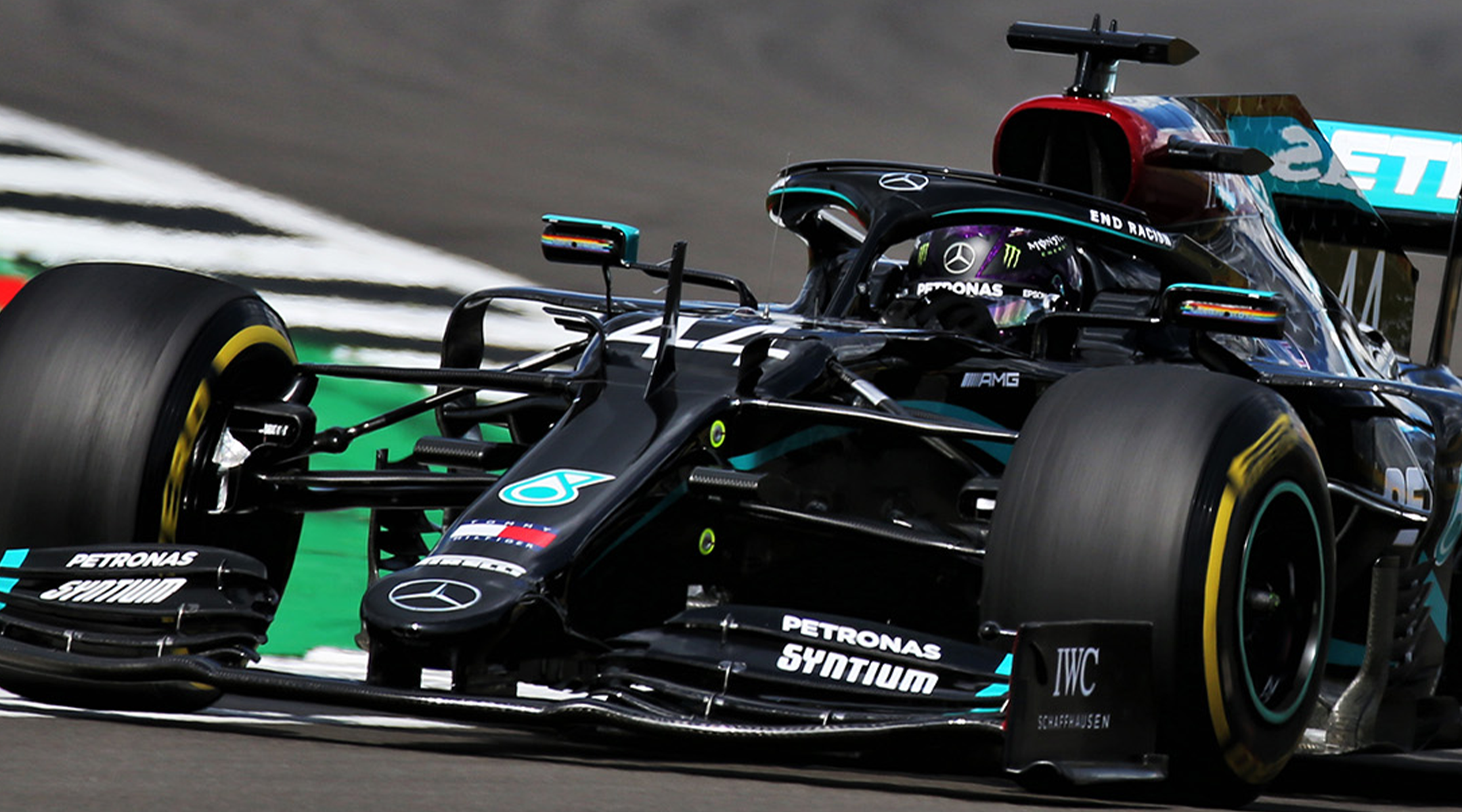 17th Jul 2021 / 09:00
Formula 1 British Grand Prix 2021 - Silverstone- Qualifying at Silverstone Circuit
Silverstone,
Towcester, Northamptonshire NN12 8TN
Entry type: BALLOT
U16s with adult only
Event is outside
Check venue website for T&C's
Collection at box office (COBO)
There is nothing like the thrill of experiencing live Formula 1 racing on one of the fastest race tracks in the world. Watch the best drivers fight it out on Silverstone's famous corners and soak up the atmosphere as the passionate British fans get behind their favourite drivers. In addition to all the action on the circuit the event is a festival of live music, driver appearances, food and enterrtainment.
Please Read: Important information
Successful applicants of this ballot will have their tickets for Formula 1 British Grand Prix 2021 - Silverstone- Qualifying sent to them by Silverstone. For this to happen, Blue Light Tickets will be passing over your full name and email address. By entering this ballot, you are agreeing to Blue Light Tickets passing on your details. Your details will only be passed over if you are successful in the ballot.
---
For more information please sign in
---
IMPORTANT! THE COMPLETE TICKET FOR THE RELEVANT DAY MUST BE PRESENTED TO GAIN EVENT ENTRY. ENTRY WILL BE DENIED SHOULD ANY PART OF THE TICKET NOT BE PRESENTED OR BECOME DETACHED.
The purchase of a ticket to gain entry to the Silverstone motor racing venue (the "Venue") for the FORMULA 1 BRITISH GRAND PRIX 2021 (the "Event") constitutes acceptance of the following terms and conditions pursuant to which Silverstone Circuits Limited ("SCL") is prepared to grant entry to the Venue and the Event. The Event is promoted by SCL and organised by British Grand Prix Limited.
1. The ticket is purchased for the Event. The date of the Event and/or the support programme may be subject to change by Formula One World Championship Limited ("FOWC") and/or SCL in which instance SCL will have no obligation to refund monies or exchange the ticket. Ticket holders agree that should the date of the Event alter, their ticket(s) will be issued for the altered date(s) of the Event in which case no refunds or exchanges will be available. The ticket shall remain at all time the property of SCL which has the right to recall the ticket at any time on reasonable grounds. SCL is unable to offer refunds or exchanges in respect of tickets purchased unless the Event is cancelled due to any circumstance(s) for which SCL is covered by its relevant insurance cover.
2. Tickets are not transferable to other events and are strictly not to be offered for resale. No ticket for the Event shall be sold or offered for sale for any form of fee or reward or used in promotions without the prior written consent of SCL and FOWC first being obtained and without complying with these terms and conditions in all respects. Tickets must only be used for personal or private use. No ticket for the event shall be used by any person for advertising, promotional or commercial purposes including without limitation, prizes, competitions, contests or sweepstakes without the prior written consent of SCL and FOWC first being obtained. If this ticket is resold or transferred for profit or for commercial benefit or gain (including as part of a promotion or prize) or as part of any hospitality package or similar arrangement by anyone without SCL and FOWC's authority it will become void and the holder may be refused entry to or ejected from the Event and/or the Venue. Ticket holders agree to fully indemnify SCL and FOWC, and each of their affiliates, for all costs and expenses (including legal expenses) incurred as a direct or indirect result of all and any claims howsoever arising from any third parties as a result of the contravention of this term.
3. All tickets are security printed and should only be purchased direct from SCL or through an official ticket agency. Any attempt to present any other ticket will lead to refusal of admission and possible prosecution. Unauthorised vendors will be prosecuted.
4. SCL reserves the right to alter your seat allocation (if any) without prior notice. If this is necessary for any reason, SCL will reimburse any reduction in value between the original and altered seat allocation. Tickets that include a roving grandstand seat for the Friday and/or Saturday of the Event do not guarantee access to any particular grandstand or seat allocation and are subject to seat availability. Seats are only reserved and allocated for the Sunday of the Event, unless sold otherwise.
5. Tickets including train travel: The Customer acknowledges and agrees that the exact timing of the train travel may be subject to change and that SCL will not be able to confirm full details until eight weeks prior to the Event. Further that SCL retains the right to offer an alternative in the unlikely event that due to requirements on the rail network the trains are unable to operate due to essential maintenance works or other matters as may be directed by Network Rail from time to time.
6. Child tickets are for children aged 15 years and under at the time of the Event. SCL reserves the right to require photographic evidence of proof of age.
7. Children using a child ticket must be accompanied, and supervised at all times, by a full paying adult. Each full paying adult may bring up to a maximum of four children. Each child ticket must have the identical status to that of the ticket presented by the accompanying adult.
8. SCL reserves the right to refuse admission and to remove persons from the Venue who do not comply with the Venue rules or these terms and conditions, who represents a security risk, nuisance or annoyance to the staging of the Event or who have in his or her possession prohibited items, which shall include but not be limited to alcoholic beverages, non-prescription drugs, chemicals of any kind, glass bottles, barbeques, ladders, laser pens, weapons or any offensive materials in whatever format. SCL further reserves the right to conduct security searches of persons and their belongings to ensure the safety of persons at the Event. Pass-outs and readmissions to the Venue shall be granted at SCL's discretion. Re-admission shall only be possible if a valid official pass-out is presented.
9. SCL reserves the right to make amendments to these terms and conditions from time to time where it has a valid reason to do so (including, without limitation, a change in the security or public safety requirements of the Venue). A full copy of the latest version of the terms and conditions (as amended, if appropriate) will be available at www.silverstone.co.uk. SCL shall notify you of such changes via email to the email address you provided when purchasing your tickets if they materially affect your rights as a consumer.
10. Smoking and vaping are strictly prohibited in any of the Venue's grandstands and enclosed areas.
11. CCTV and film cameras may be present at the Venue, this includes filming by the police or security staff carried out for the security of visitors, and filming and/or photography authorised by FOWC. By purchasing a ticket to the Event and/or attending the Venue you give your express consent to all such filming and to your actual or simulated likeness being included within any film, photograph, audio and/or audio visual recording ("Footage"), all rights in which will be owned by FOWC (of by any party authorised by FOWC from time to time). You also agree that any such Footage may be used by FOWC (and by any third party authorised by FOWC from time to time) in any and all media for any purpose at any time throughout the world, including (with the exception of CCTV or security Footage) for commercial purposes, such as merchandising or DVDs, without payment or compensation to you. If you wish to withdraw such consent please contact the SCL Data Protection Officer ([email protected]).
12. No animals (with the exception of registered assistance dogs, who must be notified in advance by emailing [email protected] will be admitted to the Venue or any car parks.
13. Ticket holders must not make, create, store, record or transmit any kind of sound recording, visual footage or audio-visual footage ("Recording"), or store, record or transmit any information or other data, including official timing, results, performance, telemetry, weather or race control data ("Data") of, at or in relation to the Event. It is forbidden to take into the Venue any equipment that may enable you to do the aforementioned acts. Personal electronic devices (including still image cameras, mobile telephones and other personal communications devices) are permitted within the Venue, unless otherwise advised, provided that any Recording, Data and any image, including photographic images and any still pictures derived or capable of being derived from a Recording ("Image") of the Event that is recorded, stored and/or created thereon is used solely for personal and private non-commercial purposes. As a condition of entry to the Event you agree that (a) the use of any such Recording, Data or Image, for any form of public advertisement or display, or for profit or commercial gain or for any other purposes including without limit for display on any internet site (except the private enjoyment of the person making or storing the Recording, Data or Image) without the prior written consent of FOWC is strictly forbidden and will constitute a breach of these terms and conditions for which you may be liable; (b) on request by SCL or FOWC you shall assign to FOWC in writing the copyright and all other intellectual property in any Image or Recording you create, make, store or record of, at, or in relation to the Event; and (c) you consent to the use by FOWC (and by any third party authorised by FOWC from time to time) for the purposes of or in connection with any publication, exhibition or broadcast (including any advertising or promotional literature, campaign or material) in any media worldwide, in perpetuity and on a royalty-free basis, and approved by FOWC of any still or moving picture images taken at the Event where such image includes any image of you, your voice or your likeness and you waive any and all of your personality and privacy rights to the extent necessary to permit such use.
14. The use of drones or similar equipment, for any reason, is prohibited on or near the Event.
15. Official merchandising is only on sale inside the Venue. No unauthorised trading is permitted within the Venue or any official car parking.
16. Only vehicles displaying a valid official Venue car park pass will be able to gain entry to the car parks in and around the Venue. Where relevant, use of the Venue car parks shall additionally be subject to the applicable terms and conditions as shown on the official Venue car park pass. Failure to display the valid car pass will result in a civil parking notice.
17. No person may use the name of the Event or part thereof (nor any abbreviation or foreign language version thereof) nor any logo or graphic device of or relating to the Event for any commercial purpose whatsoever without the prior written consent of FOWC first being obtained, exercisable in FOWC's discretion.
18. The F1 FORMULA 1 logo, F1, FORMULA 1, FIA FORMULA ONE WORLD CHAMPIONSHIP, BRITISH GRAND PRIX and related marks are trademarks of Formula One Licensing BV, a Formula One group company. All rights reserved.
19. MOTOR RACING IS DANGEROUS AND NOISY AND TICKET HOLDERS ACKNOWLEDGE THAT THEY MAY BE EXPOSED TO POSSIBLE RISK OF PHYSICAL HARM DUE TO THE NATURE OF THE EVENT. SCL, THE SANCTIONING BODIES (INCLUDING BUT NOT LIMITED TO FOWC AND ITS AFFILIATES, FORMULA ONE MANAGEMENT LIMITED, FORMULA ONE MARKETING LIMITED, FORMULA ONE HOSPITALITY AND EVENT SERVICES LIMITED, FORMULA ONE ASSET MANAGEMENT LIMITED, FORMULA ONE LICENSING B.V., FORMULA MOTORSPORT LIMITED, FORMULA ONE RESEARCH, ENGINEERING AND DEVELOPMENT LIMITED, FORMULA ONE DIGITAL MEDIA LIMITED, FÉDÉRATION INTERNATIONALE DE L'AUTOMOBILE), THE ORGANISERS OF THE EVENT (INCLUDING OFFICIALS, MARSHALS, RESCUE AND MEDICAL STAFF), COMPETITORS AND DRIVERS, (SUCH PARTIES TO INCLUDE WHERE RELEVANT ALL DIRECTORS, OFFICERS, EMPLOYEES, AGENTS, CONTRACTORS AND AFFILIATED COMPANIES) ARE NOT RESPONSIBLE FOR ANY LOSS OR DAMAGE HOWSOEVER CAUSED TO TICKET HOLDERS OR THEIR PROPERTY, TO THE MAXIMUM EXTENT PERMITTED BY LAW.
20. SCL WILL NOT BE LIABLE FOR ANY LOSS, INJURY OR DAMAGE, HOWSOEVER CAUSED, TO TICKET HOLDERS OR TO THEIR PROPERTY ("LOSS") EXCEPT WHERE AND ONLY TO THE EXTENT THAT ANY SUCH LOSS IS CAUSED BY THE NEGLIGENCE OF SCL, ITS EMPLOYEES OR AUTHORISED AGENTS.
21. SCL will not be liable for any delay in performing its obligations as a result of any act, event, omission or accident beyond the reasonable control of SCL including without limitation pandemic, epidemic, outbreak, disease, quarantine, public order disturbance, flood, storm, adverse weather condition, natural event, fire, strike, lock-out or other industrial dispute even if not beyond the reasonable control of SCL, nuclear accident, act of God, war, terrorist activity, riot, civil commotion, malicious damage, act of government, compliance with any change to law, statutory guidance, non-statutory guidance, rule, regulation and/or direction, accident, breakdown of plant or machinery, non-performance by suppliers or subcontractors (other than by companies in the same group as SCL) and interruption or failure of utility or service.
22. Nothing in these terms and conditions seeks to exclude or limit the liability of any party in respect of death or personal injury caused by its negligence or any other liability which cannot be excluded or limited at law. The exclusions and limitations of liability in these terms and conditions are for the benefit of all parties named in Clause 19 and can be directly enforced by them.
23. In the interests of public safety, SCL reserves the right to request ticket holders to leave the Venue at any time for safety reasons or immediately after the Event. No admission or re-admission after the end of the Event.
24. During the Event the noise level may be very loud within the Venue. In particular ticket holders are advised to wear hearing protection during races and live concerts (if any) to reduce the risk of hearing damage.
25. While at the Venue ticket holders should always keep to the designated paths and access all freestanding banked viewing areas with caution using steps/path as appropriate.
26. SCL reserves the right to impose and/or update such health restrictions, warnings or guidance at any time as a condition of admittance to, and/or in relation to behaviour at, the Venue as SCL considers appropriate, taking in account current circumstances at that time or in response to any guidance or requirements issued by the Government, Public Health England, any other governmental, judicial or regulatory authority or issued by any rights holder or governing body. Any requirements, changes or updates will be communicated via the SCL website, email or notices at the Venue.
27. SCL may also implement and operate any health check system which it considers appropriate (such as a temperature check) before entry to the Venue is permitted.
28. Admittance to the Venue is subject to adherence to the rules and regulations of the Venue including all health restrictions imposed and it is the responsibility of all visitors to ensure they are able to comply with such rules and regulations. Any breach of the rules and regulations may result in SCL refusing admission to the Venue or ejecting the ticket holder(s) from the Venue without refund or compensation.
29. The safety measures introduced by SCL are designed to reduce the risks identified in connection with the health restriction, but it is not possible to completely eradicate this risk. It is each ticket holder's sole decision to attend the Venue acknowledging that they do so at their own risk. Ticket holders are responsible for their own health and safety and must not solely rely on the measures put in place by SCL.
30. Silverstone Circuits Limited (Company registration no. 882843) registered office is at Silverstone Circuit, Northamptonshire NN12 8TN. British Grand Prix Limited (Company registration no. 00926634) is not affiliated to SCL in any way.
31. These terms and conditions shall be governed by English law and the parties shall submit exclusively to the Courts of England. Your statutory rights are not affected. Please keep this ticket safe and in good condition as a duplicate ticket will not be issued if it is lost or stolen and a defaced or illegible ticket may become invalidated. SCL will not be liable for any lost or stolen tickets, and are not obliged to re-issue such lost or stolen tickets. Notes: Any changes in permanent address should be notified to [email protected] The Customer must ensure that their address is correct at the time of booking as SCL cannot be responsible for nondelivery. Please make any enquiries regarding your order to the Booking Office via [email protected] within 14 days of receiving this order confirmation. The passes and route directions for coach transfers will be included when ticket orders are despatched. SCL cannot be held responsible for any lost in post orders. Information About You and Your Visits To Our Site We process information about you in accordance with our privacy policy. By using our site, you consent to such processing and you warrant that all data provided by you is accurate.
BULK TICKET PURCHASE – ADDITIONAL TERMS & CONDITIONS:
In addition to SCL's standard terms and conditions (shown above), any order in excess of ten (10) tickets and/or passes (or any number of orders resulting in the same Purchaser receiving in excess of ten (10) tickets and/or passes) shall be subject to the following conditions and may be subject to a request to execute a separate agreement with SCL. Please email our Customer Service Team on [email protected] to enquire and for further information. The Purchaser warrants that the tickets and/or passes are purchased for personal and private use, tickets cannot be used for promotion purposes without prior written consent from SCL and FOWC.The Purchaser shall not sell or transfer any of the tickets and/or passes for financial or commercial gain, without the prior written permission of SCL and FOWC. The Purchaser shall not offer any of the tickets and/or passes to any third party as part of any hospitality package or similar arrangement including but not limited to offers of tickets and/or passes combined with food and/or drink and/or travel and/or entertainment. SCL reserves the right to refuse entry to or remove from the bearers of tickets and/or passes purchased or received in contravention of these terms and conditions. The Purchaser agrees to make payment in full in accordance with the payment terms issued by SCL. In any event the Purchaser agrees that if SCL has not received payment within the agreed terms SCL shall have the right in its absolute sole discretion to cancel the booking and SCL will be free to sell these tickets. Tickets shall not be issued until payment has been received in cleared funds by SCL. The Purchaser agrees and acknowledges that there are no refunds or rights to cancel. The Purchaser agrees and acknowledges that should the date of the Event change the tickets shall be issued for the changed date and there are no refunds or rights to cancel. Any order over a face value of £6,000 must be collected by the Purchaser or their own appointed courier.
2021 FORMULA 1 BRITISH GRAND PRIX – PUBLIC CAR PARK (including park and ride sites) TICKET TERMS AND CONDITIONS
1. All vehicles (and their contents) parked within any car park operated by Silverstone Circuits Limited ("SCL") are left at the owners' sole risk. SCL shall not be liable for any loss or damage suffered by owners arising from their use of any SCL car park (including damage to owners' vehicles and/or their contents), except where and only to the extent that any such loss or damage is caused by the negligence of SCL, its employees or authorised agents. SCL reserves the right to move any vehicle it deems necessary due to logistical, safety or similar reasons.
2. It is a condition of admission to Silverstone Circuit and any SCL car parks that no animals are allowed within such areas, with the exception of registered assistance dogs whose attendance has been approved by SCL prior to the Event, and owners acknowledge that SCL personnel or their appointed contractor shall be entitled to enter any vehicle by whatever means necessary at the owner's cost in the event that any animal has been left within a vehicle.
3. This pass is strictly not for resale and remains at all times the property of SCL. This pass is issued on the express condition that the holder is bound by the terms and conditions issued by SCL in relation to the SCL car parks and Silverstone Circuit itself. This pass allows owners to enter the designated SCL car park to park their vehicles only and not for any other purpose (including, without limitation, to conduct any trade or exhibition, to sell any goods, food or beverage or to camp). This pass is valid for the day indicated only, which may be subject to change in the event of any alteration to previously published timetables.
4. Owners and passengers alike must at all times act responsibly and with due regard to safety whilst in any SCL car park (either on foot or whilst driving). SCL reserves the right to confiscate this pass and refuse admission and/or eject any person(s) found in breach of these conditions or the conditions of entry to Silverstone Circuit. SCL reserves the right to relocate pass holders to an alternative SCL car park in the event that the designated SCL car park is unavailable. SCL shall not be liable for any loss or damage caused in the event that any SCL car park is unavailable due to reasons beyond SCL's control.
5. These terms and conditions shall be governed by English law and the parties shall submit exclusively to the Courts of England